Gender Swapped Fairy Tales (Hardback)
Gender Swapped Fairy Tales (Hardback)
Jonathan Plackett
Imagine a world where kings prick their fingers as they sew, wolves wear heels, and princesses race to rescue sleeping princes…
We are temporarily only able to ship Faber Shop orders to addresses in the UK.
Date Published
05.11.2020
Delivery
All orders are sent via Royal Mail and are tracked: choose from standard or premium delivery.
Discover a collection of fairy tales unlike the ones you've read before . . .

Once upon a time, in the middle of winter, a King sat at a window and sewed. As he sewed and gazed out onto the landscape, he pricked his finger with the needle, and three drops of blood fell onto the snow outside.
People have been telling fairy tales to their children for hundreds of years. And for almost as long, people have been rewriting those fairy tales – to help their children imagine a world where they are the heroes. Karrie and Jon were reading their child these stories when they hit upon a dilemma, something previous versions of these stories were missing, and so they decided to make one vital change . . .
They haven't rewritten the stories in this book. They haven't reimagined endings, or reinvented characters. What they have done is switch all the genders.
It might not sound like that much of a change, but you'll be dazzled by the world this swap creates – and amazed by the new characters you're about to discover.
Plainly, the core audience is the malleable young mind . . . But more fascinating – particularly if your children are too old and cynical for such an enterprise – is to read it yourself for what jars, what surprises, what seems implausible, what repels.
Zoe Williams, Guardian
It's one thing to know that misogynistic stereotypes exist, another to peer into the machine that creates them . . . The illustrations also back up the aim of the book by disrupting stereotypes . . . an important reminder that the way we tell stories matters.
Independent
The conceit is simple, and it is from that purity that the book takes its power, even for those like me who are rather above its target age range . . . I'll be giving Gender Swapped Fairy Tales to every child I can come Christmas, in a thinly veiled cover for shoving it into the hands of their parents – undoubtedly, it is they who need it most.
i Newspaper
I only intended to look at it . . . but I'm completely drawn in. I love it. The language is fantastic. The gender swaps I hope will undo all my unconscious bias and I'll find my inner power! Fabulous.
Philippa Perry
I just think this is so brilliant . . . It is fascinating. I would encourage any parent to read it.
Molly Flatt, BBC Radio London
Fascinating . . . refreshingly entertaining.
Daily Mail
Jonathan Plackett is a Creative Technologist / Thinker / Maker / Coder / Game Designer / Author. He specialises in creating playful and shareable interactive experiences including apps, websites, filters, music videos, games and books. His work has been featured in worldwide press including The Wall Street Journal, Der Spiegel, The Times, The Telegraph and the BBC. He is the…
Read More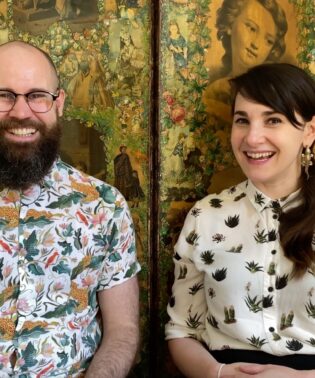 Also Recommended
Browse a selection of books we think you might also like, with genre matches and a few wildcards thrown in.