'I look at a good many poetry scripts every week,' T. S. Eliot told an audience of young publishers in 1952.
The great majority discount themselves within a poem or two, he confessed; then there are those about which no immediate opinion can be formed (these would sit with him 'for a long time'). But for a very small number of scripts there could be no hesitation: 'The rarest experience is to come across a new poet who strikes you as so good that you don't need anybody's judgment but your own.'
Ishion Hutchinson had steered his own course before I read him, and he needed no judgement of my own: he had already won print and praise. But even if he hadn't, I'd like to think that I would not have needed anybody's judgement but my own to recognise the truthful sincerity that lay deep within his work. I read his poems on the evening I received them; the next morning I asked if I could publish them. It was one of the least complicated decisions that have presented themselves in my time at Fabers: in Eliot's phrase, it was that 'rarest experience'.
Here were poems of dignity and grace, with a musical ear, and far-seeing eyes that twinkled with intelligence and with kindness, and which fixed you with a steely impatience of discrimination and injustice. Many of the pieces I read that first evening had their feet in Ishion's Jamaica, and often also their heart, but they reached open-armed far beyond those shores to embrace European literatures, classical inspirations, international concerns. However global their vision, they continued to see the world in the particular: be it in a wind that swayed the sugar cane, or in Blake's grain of sand.
To spend a moment with a poem like 'After the Hurricane', with its white-hatted governmental surveyors peering into the wreckage of roofless shacks, is to realise why Ishion is regarded as an astute and subtle critic of subjugation and slavery, as well as a poet of rebuilding and of hope. It takes a moment longer to fully understand the depth of subtlety and sophistication with which he illuminates the racial and cultural disturbance behind that force: that nature itself, he persuades us, will be experienced differently depending upon your ethnic, social or economic background. It's simply not true that a rising tide raises all boats: some can never be made seaworthy, others are roped and bound so tightly that the high water will drag them down. In a line from his oceanic poem, 'The Mariner's Progress': 'Geography is not fate but fatal.'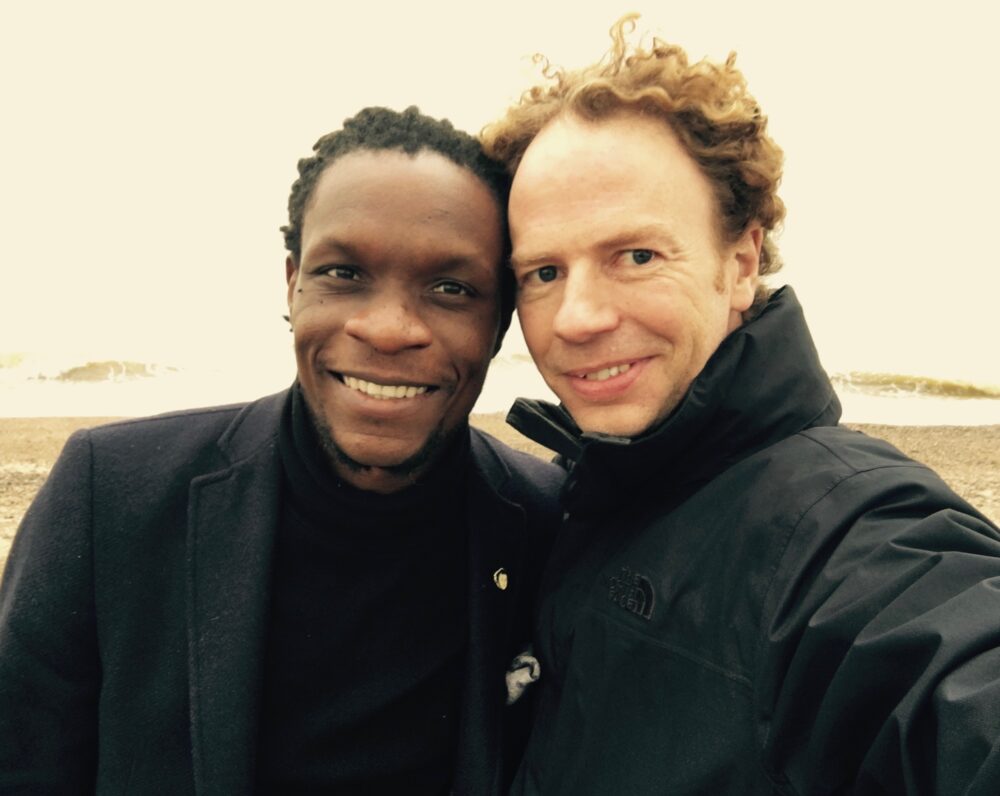 Journeying with Ishion to Aldeburgh this month (pictured), on our own island's edge, to the heart of the old Anglo-Saxon wordhord, was a rare experience that I will not soon forget, and not only for his gentle and eloquent company.
Where I grew up, only a few miles from there, the North Sea could be a cruel sea of arctic winds and rampaging waters capable of devouring the very coastline itself. But my sea was different to Ishion's, not only because his corner of the ocean lay squarely in the hurricane path, but because the difference was not solely elemental. As a stage for colonial slavery, his sea hid a history of manacled chains and submerged graves – 'that gray vault' that Derek Walcott once described, in which the common memory was entombed. With our heritage of slave ports and shackled seas, crossing the water to England may never be uncomplicated for Ishion, to this Old English place of 'The Seafarer' with its caldum clommum (cold chains) and iscealdne sæ (in Ezra Pound's famed translation: 'Chill its chains are . . . on ice-cold sea'). But cross it this seafarer has.
As a student in Jamaica, Ishion told me, he grew up reading whatever Faber editions he could lay his hands on, devouring their poems and their typography in equal measure; how fitting that, in the years and the nautical miles since, his own poems now find a place for themselves at Eliot's publishing house. But it was Philip Sidney, not Eliot, who said that poetry was 'a great passport'; if so, I suspect Ishion may go on to be one of our greatest travellers. But wherever he journeys, for all the complication it poses I hope he will always feel that he has a harbour here. And, whatever he chooses to make of it, something else besides. A home.
Ishion Hutchinson
Far District, the transporting debut from the author of House of Lords and Commons, is structured as the spiritual journey of a poet–speaker caught between two cultures.
Ishion Hutchinson
National Book Critics Circle Award-winning collection – moving from the Jamaican landscape of the poet's childhood to worlds beyond with sensitivity and graceful music.