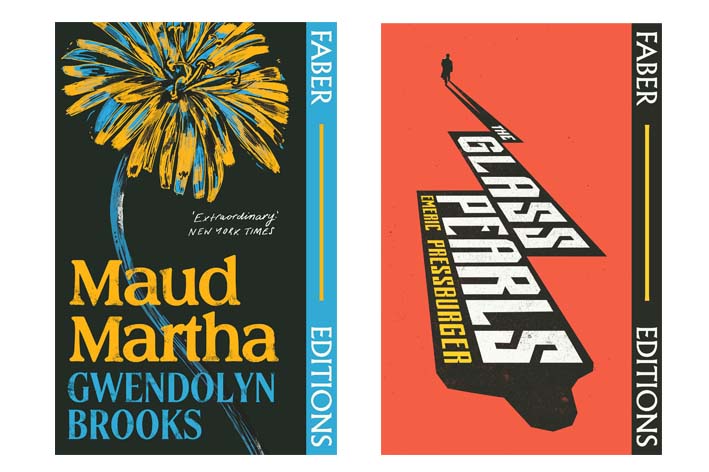 21 March 2022
Launching the next two titles on our Faber Editions list, which spotlights rediscovered gems: books for the future, rooted in history.
The series launched in August 2021 – see below for original announcement – with Rachel Ingalls' cult housewife–frogman romance, Mrs Caliban (1982), followed in November by Wilson Harris's epic rainforest voyage, Palace of the Peacock (1960). And earlier this month, They, Kay Dick's 1977 lost dystopian masterpiece, was championed by Emily St John Mandel, Carmen Maria Machado, Margaret Atwood and Edna O'Brien.
In May 2022, we will be publishing our fourth Editions title: Gwendolyn Brooks's Maud Martha (1953). Published in Britain for the first time, this is the only novel by the legendary poet and the first Black author to win the Pulitzer Prize. Introduced by Margo Jefferson, it evokes one girl's coming of age in 1940s Chicago, revealing the 'poetry, power, and splendour of an ordinary life' (Tayari Jones) in an 'exquisite portraiture of black womanhood' (Claudia Rankine) – and as Bernardine Evaristo says, 'I want everyone to read this lost literary treasure.' Translation rights have already been sold in eight territories with significant international interest growing.
And in August 2022, our fifth Editions title will be The Glass Pearls (1966), a sinister tale of an ex-Nazi surgeon hiding in plain sight in post-war London, introduced by Anthony Quinn. Its author is the celebrated filmmaker Emeric Pressburger, a Jewish scriptwriter who fled Germany in 1933 before forging a famous cinematic partnership with Michael Powell in London. In William Boyd's words, this is a 'wonderfully compelling noir thriller and a tremendous rediscovery', with Sarah Waters calling it an 'extraordinary novel which had me hooked from start to finish'.
The striking covers reimagine Faber's iconic heritage, art-directed by Peter Adlington, with Maud Martha designed by Holly Ovenden and The Glass Pearls by Jack Smyth.
Editor Ella Griffiths said:
'We were overjoyed with the amazing response from readers, booksellers, critics, authors and the whole cultural community to our first three Faber Editions titles. We couldn't have dreamed of a better way to launch the new list, from the word-of-mouth sensation that is Mrs Caliban to the national campaign for They – and thank you to all my fantastic colleagues who worked so hard to make this magic happen. Our next two titles are absolute gems: I'm in love with Brooks's lyrical, defiant, inspiring masterpiece, Maud Martha, and can't wait for readers to experience the haunting thrills of The Glass Pearls – and beyond!'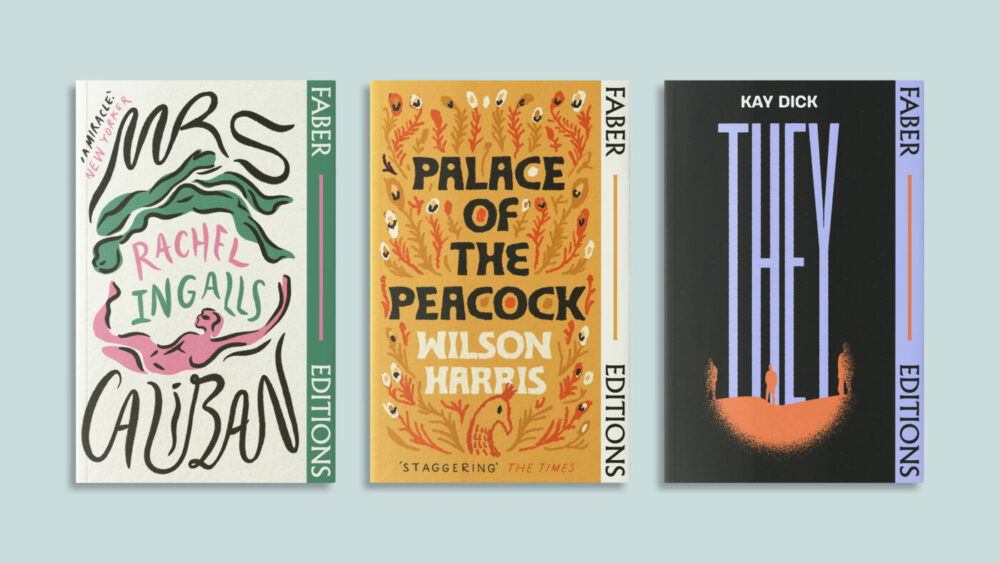 30 June 2021
Faber announces an exciting new publishing list, Faber Editions, which is dedicated to radical literary voices from across the world.
Curated from Faber's 90-year archive and beyond, titles will be published quarterly. With bold covers inspired by Faber's iconic design heritage, each £8.99 flapped paperback will feature a new foreword by a contemporary champion.
The launch title in August 2021 is Rachel Ingalls's Mrs Caliban (1982). This  'amphibious cult classic' about a housewife's passionate affair with a frogman is introduced by Irenosen Okojie, with fans including Patricia Lockwood, Marlon James and Sarah Hall.
It will be followed by Wilson Harris's Palace of the Peacock (1960) in November. Chronicling a riverboat crew's epic voyage into the rainforest, this landmark novel is celebrated as 'genius' by Jamaica Kincaid in her new introduction.
Then, in February 2022, Carmen Maria Machado will be introducing the third Editions title, Kay Dick's lost dystopia They (1977). 
Further titles will be announced in the autumn. 
Editor Ella Griffiths said: 
'For almost a century Faber has prided itself on writers who "make it new" – but it feels crucial, and incredibly exciting, to always be diversifying what that means. With the Faber Editions list, we wanted to create a thrilling, inclusive space to celebrate radical literary voices from history which speak not only to our present, but our future. Published with frontlist energy, these outstanding novels embody that spirit, and we can't wait for new generations of readers to experience their magic.'
Designer Pete Adlington said:
'Our mandate for Faber Editions was to create a bold and diverse series style that matched the subversiveness and eclecticism of the list. In a nod to our heritage, the Editions branding is a reimagined version of the original Faber Paper Covered Editions strip created by Berthold Wolpe in the 1950s. This striking branding alongside a limited colour palette and focus on arresting typography creates a platform that will allow a varied array of designers and artists to contribute to future Editions, while ensuring the list coheres visually with a collective voice.'
We are handling keen interest in Faber Editions from the international publishing community, and we are delighted to be securing homes for this exciting list across the globe.
For all Rights information and enquiries please do be in contact with garights@faber.co.uk