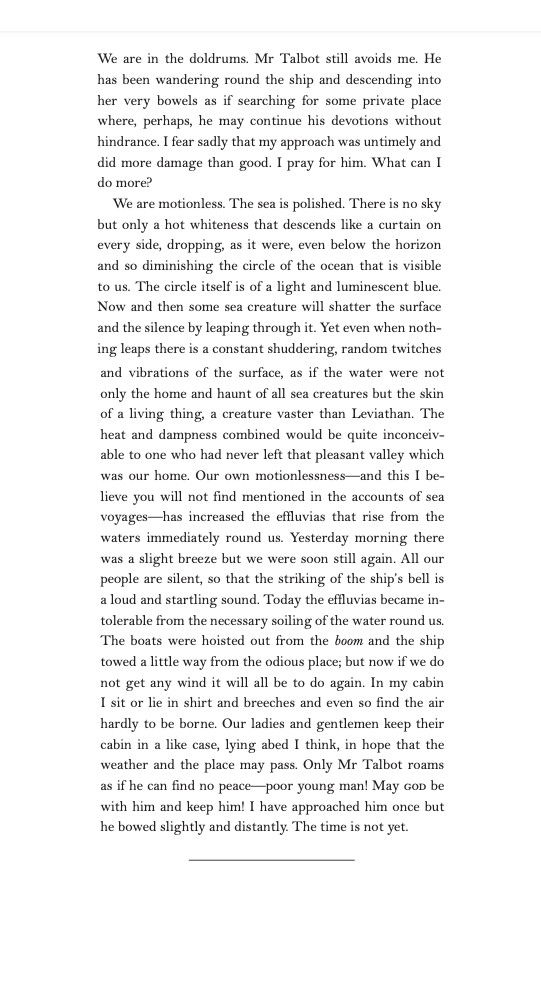 17 September 1979
I had a small look at Rites this morning: and shall do so every day to keep it in mind. I have a picture of a glimpse of the purser by candlelight. Most people are in debt to him and nobody knows how much. It is rumoured that even the captain was subsidised by him. We must build up this very mysterious, framed, magical picture, the purser at his high, brightly candlelit desk, as seen from the very bilges of the ship. We will plant that and let the reader make what he can of it. There ought to be some sort of reserve, even a nervous unwillingness to discuss the man and his position. It is nice to think of puzzling everyone legitimately.
26 March 1986
There are forty-five named persons aboard the unnamed ship. Of course, the second volume increases that. I am glad to notice that Edmund declares in the first volume that he proposes to buy a book from the purser to continue his journal in – an unlocked one. So I can start with his descent to the pursers [sic] office in search of it.
[ . . . ]
I can now begin volume two with Talbot's visit to the purser. 'I'm funny like that, you know.' His self-satisfaction is in having the future worked out, including arrangements for his own survival. 'No man who lends money wants it back.' 'A thinking man, Mr Talbot, will conceed [sic] the religious, the mystical, the miraculous quality inherent in the coins of the realm.' 'Anything has been done by someone, sometime, Mr Talbot.' 'It is my pleasure to serve my fellow men. I'm funny like that, you know.'
18 August 1986
Really the thing which interests me most at the moment is volume three! I see it ending with a farcically, even contemptuously happy ending! Edmund has been an MP for months without knowing it. We have letters to and from Miss Chumley who has consented to make him the happiest of men! Mrs Prettiman will bear a son to find that rich and fertile centre of the continent where her late husband's ideas will find practical expression! Mr Summers is made acting commander!
WILLIAM GOLDING'S JOURNAL COPYRIGHT © WILLIAM GOLDING LIMITED. ALL RIGHTS RESERVED.