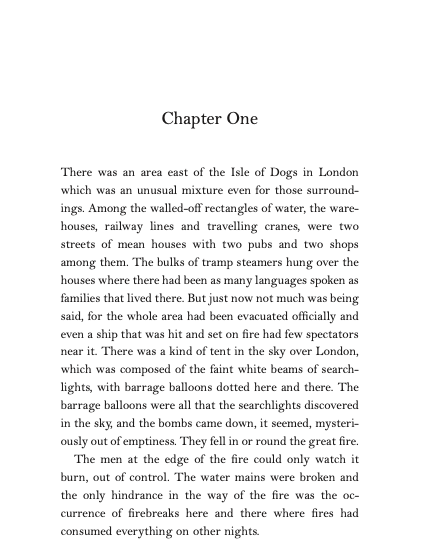 William Golding's novel Darkness Visible opens with a passage of bravura writing – Golding's vision of the East End of London bombed into an inferno.
This passage was considered by his wife Ann Golding, always his first reader, to be one of the best pieces he ever wrote. It forces the reader to be there – to see and feel the hectic red glow turning to white heat at the terrifying core of the fire. But Ann Golding meant more than that. At the novel's start Golding shows us its centre, possibly the centre of all his extraordinary novels. Matter-of-fact life merges seamlessly with the miraculous. The transition is as invisible as the separation of fire from what it consumes. And Matty, the scarred, inscrutable, human heart of the book, walks out of a fire that is melting lead and distorting iron.
From William Golding's Journal:
Last night while lying awake I had a thought which may be valuable. It concerns not so much my 'method' of writing a novel since I have next to no method, as the impulse, the thing that gets me started, or enables me to say and feel it is a book I shall finish. I have to conceive and write something, however short, which has its own validity and which I myself have faith in. Thus in Darkness Visible, it was really Matty's journal – written not first but the first authentic bit – felt by me to be authentic – that pulled the book as much together as it ever will be. Similarly, in Rites of Passage it was Colley's letter that I wrote first and round which the rest was hung.
WILLIAM GOLDING'S JOURNAL COPYRIGHT © WILLIAM GOLDING LIMITED. ALL RIGHTS RESERVED.
William Golding
The destinies of three mysterious lost children entwine in this James Tait Black Memorial Prize-winning fable by the radical Nobel Laureate and author of Lord of the Flies, introduced by Nicola Barker.