Demon Copperhead. What is that? Is it a cocktail? Is it a name? Sort of sounds like David Copperfield . . . and that's no coincidence, because Barbara Kingsolver's new smash hit is a loose retelling of Dickens's tale, set against the backdrop of crushing opioid addiction in America.
If that sounds bleak, it definitely has its moments. In young Demon, however, I met the best character I can ever remember stumbling out of a book. Read it and I promise you'll be rooting for his soul throughout every page of this chunky piece of literature. If, like me, you couldn't give a hoot about Dickens (The Muppet Christmas Carol naturally excepted), don't worry! You can step over his redundant body on the way into Demon's trailer in the Southern Appalachian Mountains and forget there was any association, because this novel is its own thing. The real deal.
Barbara Kingsolver is also the real deal, and a new book from Barbara Kingsolver is a big deal, so in terms of the design process we're inevitably in BIG BOOK LOOK territory. If you'd like a brief explanation of that, you can read a previous blog I wrote about the design process for Klara and the Sun, but if your attention span is already stretched then basically it means it's a big book and it needs to look like one.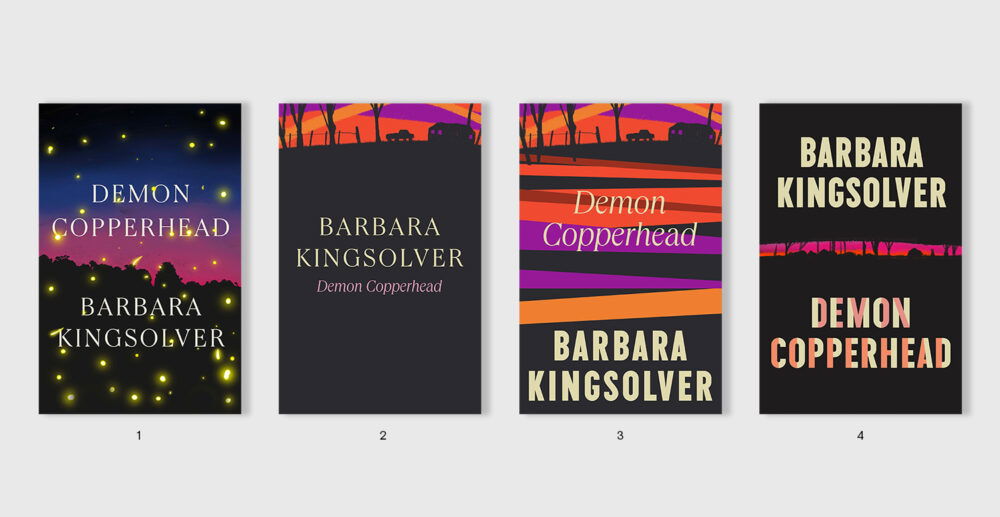 It will come as no surprise that I wasn't interested in invoking anything Dickensian on the cover. I'd fallen for Demon and this was his show. I'd also fallen for Kingsolver's description of Lee County, Virginia, Demon's home. He lives in a trailer with his mother, next to another trailer containing the Peggot family. What they lack in riches, they gain in the beauty of the woods and hills that surround them.
In my initial, very rough, visuals, I looked to evoke the deeply coloured chorus of sunset outside Demon's trailer in the woods. Think slashes of oranges, pinks and purples with plenty of space for the author name and title. These weren't liked that much by the rest of the team: considered too dark and lacking some punch. However, the fireflies in Visual 1 were quite liked – more on those later.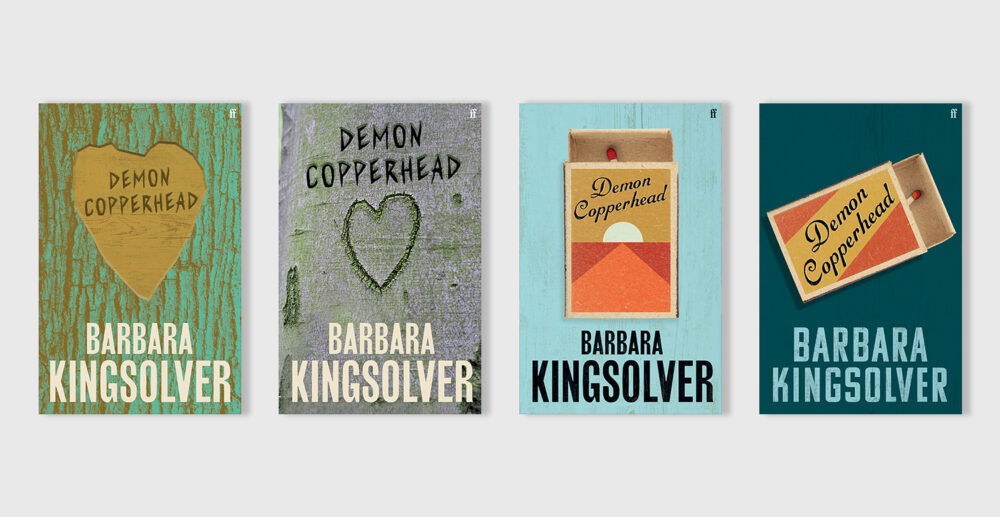 The next round went into more concept-led territory. I liked the idea of carving the title into a tree. It felt romantic and youthful, but also anarchistic. Demon, like any teenager, is swept away by rushes of emotion (until the opioids kick in), from self-destruction to love and everything in-between. I liked how the carving signposted both sides of the main character, both softer and more rebellious. I also wondered whether a matchbox could offer a sense of anarchy, as well as giving an illustrative platform to show some narrative. Demon's hair, as his name suggests, is red, so a single match was a nice metaphorical representation of him. But these didn't hold much sway when shown at our cover meetings. I think people liked the sentiment but not the execution.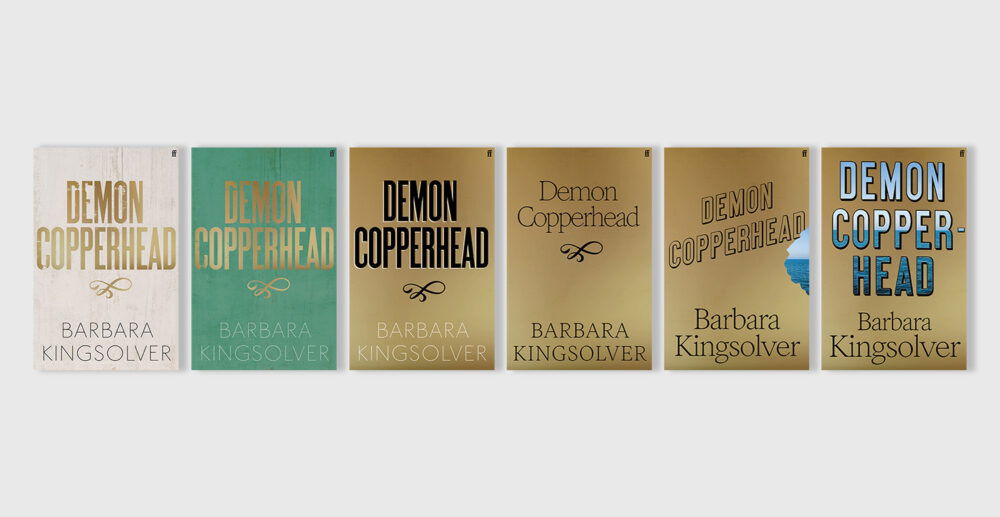 To move things forward, I stepped up a gear and produced a lot of rough concepts of varying (mainly low) success. I became heavily invested in putting as much gold on the jacket as I could to display Demon's worth as a person . . . a ridiculous concept, obviously, but I'd have been pleased if we had gone down that route, if only so I could hold a massive golden book.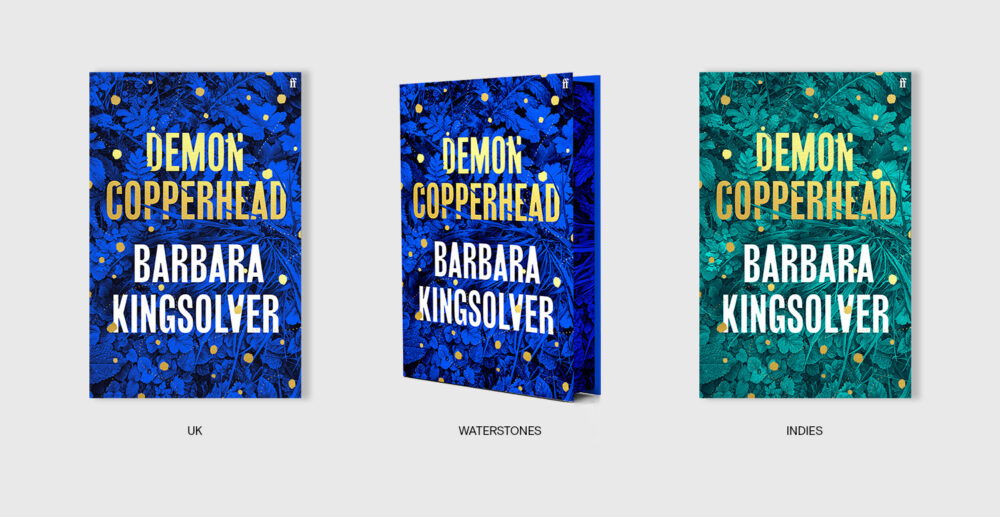 Finally, a conversation with the book's editor about how Demon's nature was like that of a weed, struggling to break through and flourish, hit a note. I had recently come across the work of Jelena and Aleksandar Paunkovich, whose large-scale paintings of the chaotic collection of plants you find underfoot hold a mesmeric magnetism. With a slight wince, I wondered if I could use their artwork but introduce some of the night-time colours of Lee County, making the image a deep blue, with some of those fireflies from earlier to add a bit of depth and glint. This concept would become the final cover, with strengthened typography and gold foil making a joyful appearance in the form of some abstract fireflies that zinged across the full jacket.
As usual, we racked up a full squad of special editions, with the Indies taking a nice teal colourway and Waterstones getting printed edges that wound the weeds over the fore-edge.
Special thanks are due to the Paunkovichs for letting me butcher their artwork in the name of trade publishing!
The hardback edition of Demon Copperhead by Barbara Kingsolver is no longer available. The book is out now in paperback, ebook and audio.
For more in our Cover Design series, we recommend:
Barbara Kingsolver
This instant classic is a masterpiece in storytelling from one of the worlds best-loved novelists. A once-in-a-generation novel, it breaks and mends your heart in the way only the BEST fiction can.