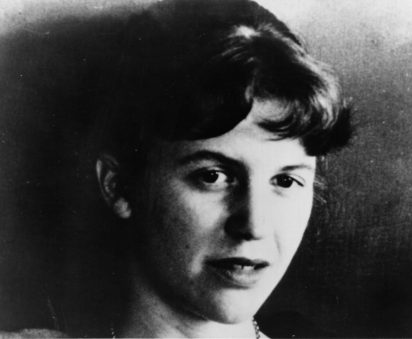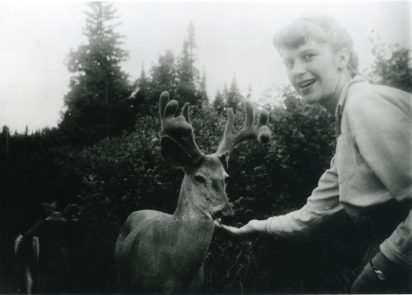 Sylvia Plath (1932–63) was born in Boston, Massachusetts, and studied at Smith College. In 1955 she went to Cambridge University on a Fulbright scholarship, where she met and later married Ted Hughes. She published one collection of poems in her lifetime, The Colossus (1960), and a novel, The Bell Jar (1963). Her Collected Poems, which contains her poetry written from 1956 until her death, was published in 1981 and was awarded the Pulitzer Prize for poetry.
1932
Sylvia Plath was born in the Massachusetts Memorial Hospital in Boston, USA. Sylvia's brother, Warren, was born in 1935.
1936
Plath's family moved from 24 Prince Street, Jamaica Plain to 92 Johnson Avenue, Winthrop, Massachusetts.
1940
Plath's father, Otto Plath, died following an amputation of his leg, which was a result of unattended diabetes.
1942
Plath's mother, Aurelia, and her brother, Warren, moved to 26 Elmwood Road, Wellesley, Mass.
1950
Sylvia Plath attended Smith College, where she edited The Smith Review and became guest editor at Mademoiselle magazine, during which she spent a month in New York City.
1953
Suicide attempt with sleeping pills on 24 August. Missed the autumn term at Smith College.
1955
Attended Harvard summer school. On 6 June she graduated from Smith College. From October of that year until 1957 Plath attended Newnham College at Cambridge University, reading English on a Fulbright fellowship from the States.
1956
Sylvia Plath married Ted Hughes in the Church of St George the Martyr, Queen Square, London, and honeymooned in France and Spain, June to August. Plath and Hughes moved to a flat in 55 Eltisley Avenue, Cambridge.
1957
Plath completed her BA degree at Cambridge University, after which she and Hughes arrived in New York having crossed the Atlantic on the Queen Elizabeth II. They spent the summer at Cape Cod before moving to an apartment in Northampton, Mass. Plath was an instructor of freshman English at Smith College 1957–58.
1958
A group of poems written around this time, including 'Lorelei' and 'Full Fathom Five', coincided with Plath's decision to leave teaching and begin writing in earnest. In September, the couple moved to an apartment in Boston. Plath worked as a part-time secretary at the Massachusetts General Hospital's adult psychiatric clinic.
1959
Plath worked part-time for the chairman of the department of Sanskrit and Indian studies at Harvard University, audited Robert Lowell's poetry-writing course at Boston University and was undergoing therapy with Dr Ruth Beuscher. In June Plath fell pregnant. Plath and Hughes were guests at Yaddo, an artist's colony in Saratoga Springs, New York, where she completed the poems which were to become The Colossus.
1959
Plath wrote 'The Stones', one of the last poems she would write in the States. Later, Plath would see this poem as the dividing line between her juvenilia and her later poems. She and Hughes moved back to the UK in December to live in a flat at 3 Chalcot Square, Primrose Hill, London.
1960
Frieda Hughes born at Chalcot Square. In October, The Colossus and Other Poems was published by William Heinemann, Ltd.
1961
Sylvia wrote 'Tulips', which would go on to appear in Ariel. Hughes noted that this marked a change in her writing practice, observing the speed of her writing increased. Ted Hughes, Sylvia Plath and Frieda Hughes moved to Court Green, their new home in Devon, where Nicholas Hughes was born.
1962
Sylvia wrote a number of poems, including 'Elm', which would be amongst those collected in Ariel. Almost all the poems in Ariel were written between October and November, often two or three each day, including 'Daddy' on 12 October. In October of that year, Ted and Sylvia separated. Plath closed up the Devonshire house and moved to 23 Fitzroy Road, London.
1963
The Bell Jar was published, under the pseudonym Victoria Lucas, by William Heinemann, Ltd. Six poems – 'Balloons', 'Kindness', 'Edge', 'Contusion', 'Words' and 'Mystic' – were written during the last ten days of Sylvia's life. Sylvia Plath committed suicide at 23 Fitzroy Road on 11 February.
1965
Ariel was published by Faber & Faber, edited and arranged by Ted Hughes.
1966
The Bell Jar was published by Faber & Faber under Sylvia Plath's name.
1971
Two volumes of Plath's poetry, Crossing the Water and Winter Trees, were published by Faber & Faber.
1981
Collected Poems appeared, followed by Selected Poems two years later, both published by Faber & Faber.
Shirley Tucker on Designing The Bell Jar
'One of the most powerful and lavishly gifted poets of our time.'
A. Alvarez, Observer
Questions about Sylvia Plath
Where can I learn more about Sylvia Plath?
In 1961 Sylvia Plath and Ted Hughes gave a rare interview for the BBC on literature and love. Watch here.