Peter Swanson's novels include The Girl With a Clock for a Heart, nominated for an LA Times book award, The Kind Worth Killing, a Richard and Judy pick and the iBooks store's thriller of the year in 2015, and, most recently, Before She Knew Him. He lives with his wife and cat on the north shore of Massachusetts.
2010
Peter Swanson publishes The Girl with a Clock for a Heart, a novella, in Mysterical-E, an online magazine.
2011
Peter is contacted by agent Nat Sobel about turning The Girl with a Clock for a Heart into a full-length novel.
2012
The Girl with a Clock for a Heart, in novel form, is acquired by Faber & Faber in the UK and William Morrow in the USA.
2015
Peter's second novel The Kind Worth Killing is shortlisted for the CWA Ian Fleming Dagger.
2017
Her Every Fear is named one of National Public Radio's Books of the Year.
2021
Eight Perfect Murders becomes a New York Times Bestseller.
Shelfie with Peter Swanson
Literary Lunch - Author Peter Swanson
Anthony Horowitz, on Rules for Perfect Murders
'An ingenious game of cat-and-mouse between Kershaw and the feds, and between Peter Swanson and the reader . . . the excitement is cerebral.'
The Times, on Rules for Perfect Murders
'Lots of thriller writers know how to set a hook, but Swanson isn't satisfied with just one; the further we go into his devilishly twisty tales, the more hooks he sets.'
Booklist
'[An] outstanding fair-play crime novel . . . Swanson will keep most readers guessing until the end. Classic whodunit fans will be in heaven.'
Kirkus Reviews, on Rules for Perfect Murders
'Chilling and hypnotically suspenseful . . . could be an instant classic.'
Lee Child, on The Kind Worth Killing
'A work of lovely violence and graceful malevolence, The Kind Worth Killing slips into your life like a stiletto in the ribs. This is a book that launches Peter Swanson straight into the ranks of the killer elite, alongside Tana French and Gillian Flynn. He's the real deal.'
Joe Hill
Quotes from Peter Swanson
'Books are time travel. True readers all know this. But books don't just take you back to the time in which they were written; they can take you back to different versions of yourself.'
Rules For Perfect Murders
'Everyone dies. What difference does it make if a few bad apples get pushed along a little sooner than God intended?'
The Kind Worth Killing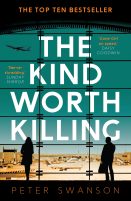 'I've always felt that being with people, as opposed to being alone, can make you feel loneliness more acutely.'
Rules For Perfect Murders
'They had a secret, the two of them, and there was no better way to start a friendship than with a secret. '
Before She Knew Him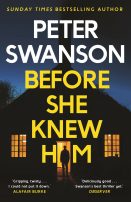 Questions about Peter Swanson
When did you start writing?
Peter Swanson: 'I was very young, about ten years old, when I started writing my own stories and poetry, and I've done it ever since. I don't know why I was compelled to write, exactly, except that I was an avid reader, and when I read something that spoke to me – anything by Roald Dahl, for example – I would try and write something similar. I would come up far short, of course, but it never stopped me from trying.'
What do you think makes a good thriller?
Peter Swanson: 'On a very basic level, it's all about making the reader want to know what is going to happen next. If a thriller doesn't have this, then it's not working. After that, it's about character – a great character can turn a decent page-turner into a classic one. And, finally, it's about surprising the reader. Not every book needs a huge twist, but there need to be some surprises along the way. The best way to surprise your reader is to surprise your character. If the character doesn't see it coming, then hopefully the reader won't either.'
Are you a crime fiction lover? If so, whose work do you enjoy?
Peter Swanson: 'There are so many, but my favorites are Agatha Christie, Ruth Rendell, John D. MacDonald, Patricia Highsmith, and Anthony Horowitz.'
Do you plan your books out from the beginning, or do they just sort of happen as you write? 
Peter Swanson: 'I always start with a premise and just go from there. I don't outline or plan, although as I'm writing I am always thinking ahead to what might happen next. It's very important to me to surprise the reader, and one of the ways I try and do that is by surprising the characters in my book. So, I think to myself: What will really shake my character. And if I do it correctly, the reader will be shaken, as well.'